Dogs Allowed

If you have a question, please ask

Tracy Smith

Dogs Allowed was her idea so if anything goes wrong it's her fault!

Ziggy Our Angel

To give her full Kennel Club name. Some angel, she wants to wee in the middle of the night and only does Agility if she feels like it!

Chloe Smith
Helps at Brackley & District Dog Training Club so if you have a problem with your dog ask her.

Our Story

Why Dogs Allowed?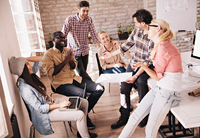 Having walked around many towns wanting to enjoy the shops but not knowing if we were allowed inside with our furry family member Ziggy, we thought it would be nice to know where we were welcome.
It was always difficult trying to ask a member of staff if dogs could go in the shop without actually going into the shop!
'If only there was a recognised sign on the shop windows' we thought, everything would be so much easier.
It didn't seem to be just a problem to us. Many questions were asked on social media about which local eatery or pub welcomed dogs. Once the question was asked answers came, but we noticed the information was soon lost and the question would be asked again not long after.
From the other perspective as a small business owner, we welcomed dogs into our map and gift shop and we had more customers. We advertised that dogs were welcome so there were no misunderstandings and were told many times how lovely it was to be able to come into a shop that welcomed dogs.
As a dog owner we were always looking for dog friendly places to visit, but had to visit many websites or make phone calls to plan our trips. We decided it was time to collate information, make it clear and welcoming where our furry friends are allowed, and for those that couldn't welcome dogs there are no embarrassing questions.
Our traffic light scheme is simple:
Green-welcome in all public areas
Amber- welcome, but in restricted areas (this should be written on the sticker on the door)
Red* -sorry, no dogs allowed (assistance dogs welcome)
Our website will be adding new businesses all the time. You can see what the business is and whether dogs are allowed.